Crack windows 7 password command prompt. Bypass Windows Logons with the dddws.com Trick 2019-02-16
Crack windows 7 password command prompt
Rating: 4,9/10

224

reviews
How to Crack a Windows 7 Password (with Pictures)
If you have locked your computer with a wrong password, you'll receive a message that says your user name or password is incorrect. Enter the new password twice when prompted. Or try professional but safe program - iSeePassword application to without system reinstallation. The key will be displayed on the screen that appears as the computer first boots up. Using Windows Password Recovery Tool to Reset Lost Windows 7 Password Step 1.
Next
Changing Admin Password using CMD
Step 3: Execute the net user command lines as listed in option 1. How can I reset my account login password for Windows 7 from Command Prompt? Step 6: Finally, type in 'q' and once again hit Enter to come out of the user edit menu. Then the Windows 7 logon screen shows up. Shortly, you will see the boot menu, where you need to choose Parted Magic. Using Password Hint to Reset Lost Windows 7 Password It is a common practice for scores of people to create password hints to enable them recall the password upon lost Windows 7 login password.
Next
Windows 7 password: bypass it with command prompt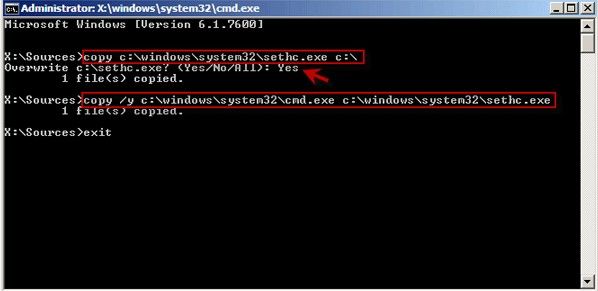 Let's see how this works. Step 2: Reset Windows 7 Password If you are not logged into the system. Step 4: Reset Windows 7 admin password with Command Prompt. Note: Opening a program using administrator access will grant you extra rights. You should now be able to see several Windows partitions that the software has identified on your hard drive. Through this Hash File, We will Crack Zip File Password using one Simple Command.
Next
Windows 7 password: bypass it with command prompt
Right-click on the result and select Run as administrator. The one that is of interest to us here is the chntpw utility, which can be used to. Step-3: The command wills perform systematically and you must restart your computer using the new password to enter into your computer. Bypass Windows 7 Password Using Command Prompt in Safe Mode If you , you can bypass Windows 7 password using Command Prompt in safe mode. Added user will be listed in the user list immediately. Nevertheless, choose the appropriate solution to fix your Windows 7 lost admin password. You can comment below your queries.
Next
How to Bypass Windows 7,8/8.1,10 Password when I'm Locked Out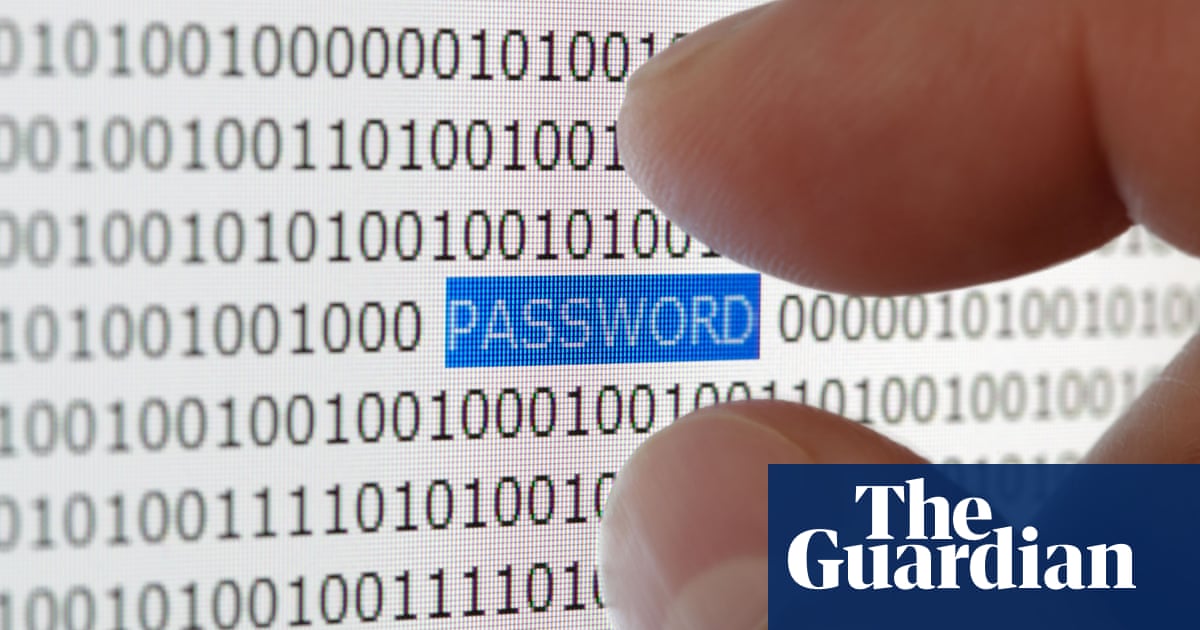 Insert the burned disk drive into the locked computer to open the Windows Password Recovery Tool. Command prompt is a user interface in which you can type commands. While it might be easy to reset a Windows 7 password, it is highly recommended using a complex and unique one for login. Step-6 : U are done. Summary It's a whole lot simpler and will save you a ton of time rather than using command prompt to reset Windows 10 local admin password.
Next
How to Reset Windows 7 Password From the Command Prompt
So, this account also have full admin priviledges. Once the command prompt program is open, enter the following commands and press enter after each command. You are now successful on how to change lost administrator password Windows 7. This will let you reset the passwords once Windows has loaded. Summary It's clear that these password reset methods will appeal to different people depending on their accuity with technology. More importantly, it would mess up the whole computer by typing the wrong command and no one could afford the lost of valuable data.
Next
Windows 7 password: bypass it with command prompt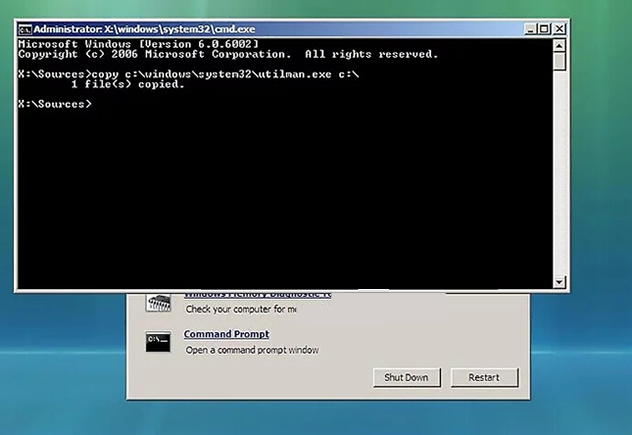 Press Shift + F10 keys combination on the first screen of the installation wizard to access the command prompt. Now change the file type in the dropdown menu to All Files. Here is how to reset windows 7 password with Windows Password Key tool Step 1: Log in any available computer that you can access to and allow you download. . Step 4: On the bottom left hand side of the screen you will see a menu option called System Tools.
Next
How to Reset Windows 7 Password from Command Prompt? » Zip Password Cracker
This will load up the Utilman. If you have tried what the step Sandywanna told you and you finished resetting windows 7 admin password, congratulations! The burning process starts immediately. Step 3 : When the computer boots to the initial Windows Setup page, click Shift + F10 to launch Command Prompt. Viruses is considered the most dreaded risks of your personal computer person these days. It can be run by either pressing the Window + U keys combination or by clicking the Ease of Access icon on the login screen. In the Command Prompt you can monitor all the user of the computer by typing some commands. You can go to control Panel to change your account password if necessary.
Next
Reset Forgotten Administrator password in Windows
This will restart your computer. At the command line, type in the following command: Net user username newpassword replace username with locked account name and set a new password. We are done After reboot, use your new password or account to login to the system. Most of us tend to provide a screen login password through which the laptop remains safe from the hands of unknown people trying to access it. Operations below would be a little complicated, you can use to reset Windows 7 password more easily and quickly. If you have no any Windows 7 setup disc, it should be the best option to reset your password with the utility. Our easy steps will help you to Reset Windows 7 Password easily.
Next